Welcome to Hit old fashion my Boy In NZEdit
                                                                                  Hi there make yourself at home
Welcome to my wiki
Be sure to visit these pages:
Cast
Places
People
Gangs
Other Stuff
Have Fun on my wiki please and message any help or  if you have any problems or edit it thanks
Bellaxx
Stuff about the movie
scroll down to look! :) <3
                                                                                          '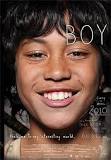 thumb|link=File:Boy.jpeg
thumb|link=File:Boy.jpeg
What the movie's all about!
Edit
Boy is a young 11 year old child who lives in Waihau Bay, New Zealand on a small farm with his grandmother, nan, his little brother Rocky and several other cousins. Boy spends his time dreaming of Micheal Jackson  and his estranged father, Alamein, who  left him and Rocky. Boy continually creates stories about his father such as him escaping prison and taking him to see Michael Jackson live. Even though Boy continues to believe this, friends and bullies never believe him anyway, which starts a fight between him and another classmate, Kingi, and his older brother. When Boy's grandmother leaves for a funereal one day, Boy takes charge of the house, his brother and cousins. But is then surprised to see his father and two other men arrive at the farm.
BOY synopsis
Edit
The year is 1984, and on the rural East Coast of New Zealand "Thriller" is changing kids' lives. Inspired by the Oscar nominated Two Cars, One Night, BOY is the hilarious and heartfelt coming-of-age tale about heroes, magic and Michael Jackson.  BOY is a dreamer who loves Michael Jackson.  He lives with his brother Rocky, a tribe of deserted cousins and his Nana.  Boy's other hero, his father, Alamien , is the subject of Boy's fantasies, and he imagines him as a Deep sea diver, War hero and a close relation of Michael Jackson (he can even dance like him). In reality he's "in the can for robbery".  When Alamein returns home after 7 years away, Boy is forced to confront the man he thought he remembered, find his own potential and learn to get along without the hero he had been hoping for.

Enjoy my wiki 
And have fun exploring maori stuff
Looks great :) better check this movie out :)
Community content is available under
CC-BY-SA
unless otherwise noted.