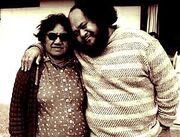 The whole Poi-E concept was born in 1982 after linguist Ngoi Pewhairangi asked musician Maui Dalvanius Prime how he would teach the younger generation to be proud of being Maori and Kiwi. He told her he could do it by giving them their language and culture through the medium they were comfortable with. Dalvuis Then The song went to the Movie boy to what this wiki is about.
Section Heading
Edit
About the song Poi E with the clip
Section heading The songs, telling the story of how the Maori community in Dalvanius's little township was affected when the factory there was closed, were expanded into a musical.
Edit
Dalvanius again; "When we wrote the musical it was about what happens to a group of people who leave Patea, what happens to them when they go into the urban environment and try and make a living. Looking at the lyrics and translations they were all about identity and Maori seeking their heritage."
Dalvanius was born and brought up at Patea, a small west coast village between Wanganui and New Plymouth which was dependant for jobs on the big freezing works. (The works had opened in 1883, canning meat for export. It started freezing meat in 1904) When "The Works" closed in 1982 there was huge social disruption, and young Maori people had to leave their close-knit marae and head for the cities to find work. 

Some could not cope with the loss of communal support and were destroyed by prostitution and drugs. The Poi-E musical tells this story, and how the Patea community coped with the problem.
Read the full story of Poi-E: the Musical on Dalvanius's own web site.